How to learn a foreign language thanks to wallabag
---
As you know, wallabag is an application to save and archive web articles. It's so useful if you don't have time to read articles and if you want to be sure to keep a version of a web page (did you already imagine if your favorite website suddenly closes?).
With wallabag, you can save an article from your computer (thanks to our browser addons) and read it on your smartphone (thanks to our smartphone applications).
But one feature which is not very known thanks to our Android application is that you can easily learn a foreign language.
If you want to learn a foreign language, one of the better thing is to hear someone speak in this language.
So, imagine that you want to learn French.
First tip, save a french article in your account.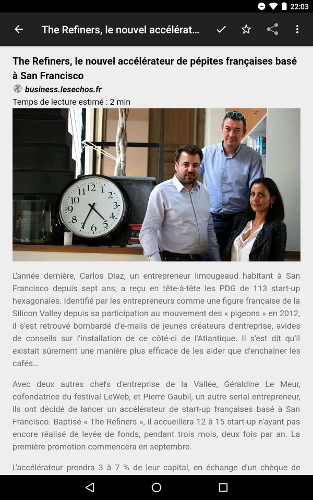 Open this article on your Android smartphone. Click on the menu button and tick the Text To Speech checkbox. A new menu will appear a the bottom of your article.
In this menu, select the language of the article (here, french). Then, click on the Play button.
Your smartphone will now read you the article in french 🎉
The first aim of this feature is to add accessibility to our application: people with impaired vision can add and read articles thanks to this great feature.
Today, this feature is available only in our Android application but we hope implementing it soon in our iOS application.
If you have any question about this feature, don't hesitate to contact us at nicolas@wallabag.it.